St Peter's Church
St Peter's Church, Stoke Fleming, is Grade 2* listed and dates from the 13th century.  The tower stands 83 feet high at 400 feet above sea level, and was formerly a sea mark to help mariners navigate into the port of Dartmouth.
The church is situated adjacent to the South West Coast Path and therefore attracts many passing visitors interested in the history of the building, and to admire the magnificent views over Start Bay.   The church is usually open for prayer and meditation and for visiting during daylight hours.  
The parish of Stoke Fleming is part of the Coast and Country Benefice in Woodleigh Deanery in the Diocese of Exeter. The other Coast and Country Churches are St Michael's Strete, St Michael's Blackawton and St Andrew's East Allington.
After the Reverend Alison Shaw's retirement the parish is currently in vacancy.‬
Service Times for March and April
Sunday 26 March.  Lent 5.  11am Morning Worship.
Sunday 2 April.  Palm Sunday.  11am United Benefice Holy Communion
         and Baptism with Rt Revd James Grier, Bishop of Plymouth.
Thursday 6 April.  Maundy Thursday.  7pm United Benefice Communion
          by extension at Blackawton.
Friday 7 April.  Good Friday.  11am Service of Reflection.
Sunday 9 April.  Easter Sunday.  11am Communion by extension.
Sunday 16 April.  Easter 2.  11am  Morning Worship.
Sunday 23 April.  Easter 3.  11am  Morning Worship.
Sunday 30 April.  Easter 4.  11am  United Benefice Holy Communion
                                                         at East Allington.
Normal Bellringing Times
Sundays:  10:15 for 11:00 service
Normal Practice Night:   Thursday at 19:30
Tower Captain: John Dietz - 01803 770515
Stoke Fleming Living Churchyard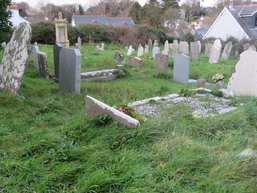 Friends of St Peter's have started a project to enhance and manage the churchyard to create a pleasant and reflective place, for the Stoke Fleming community and visitors to the village.
Full details can be found on the website Stoke Fleming Living Churchyard.  Volunteers for the Working Party will be very welcome, both to get this project under way, and to continue to maintain the area in a controlled and attractive state.