News
Rogation Sunday - Sunday 9 May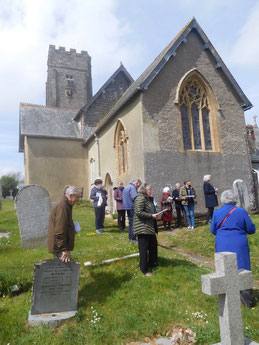 Celebrating Rogationtide on Sunday May 9th, we were blessed with beautiful sunny weather.  After starting the service in the Church, Jenny Harris led us on a journey to a field replete with buttercups, through the beautiful Sanders garden and back through the churchyard to the war memorial.  On the way we stopped at different places for appropriate hymns and readings.  We prayed for crops, animals and gardens, farmers, seafarers and villagers.  We gave thanks for earth and water, and for those who came before us.  It was a lovely opportunity to acknowledge and enjoy God's many blessings to us in our surroundings here in Stoke Fleming.
Stoke Fleming "Big Cream Tea" - Saturday 8 May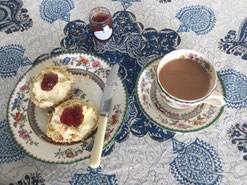 COVID restrictions meant we couldn't actually eat together (and gale force wind and rain kept us from our gardens) but no fewer than 50 cream teas were much enjoyed in Stoke Fleming on Saturday, May 8th. Including some generous donations £401 was raised for St Peter's.  Many thanks to Revd Alison, Jenny Harris and Sue Walford who baked the scones, to Rosemary Minshall and Rokie Shiffner who sorted the other items and to Hazel and Alan Smith who delivered many of the teas.
On Saturday morning at the back of church the team assembled the teas in attractively labelled bags ready for collection or delivery
Treasure Hunt - Easter Sunday 2021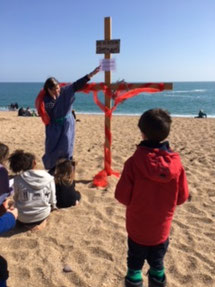 On Easter Sunday afternoon St Peter's, along with the Flavel Church and Dartmouth Anglican Churches, organised a Family Easter Treasure Hunt on Blackpool Sands (by kind permission of the Newman family).  We were blessed with beautifully calm and sunny weather.  
Participants, in socially distanced family groups, followed clues in rhyming couplets to different locations across the beach all linked with Jesus' death and resurrection.  At each location there was information about that part of the story and a question to answer.  Letters from the answers could then be rearranged to form the special message 'He is Risen' which won the prize.  91 chocolate Easter Eggs were awarded and the event was greatly enjoyed by both children and adults.  (Photos: Peter Barker)