Bellringing in St Peter's
Our bells were renovated and re-hung during 2016 and we now have a fine peal of 8 bells, but we still need ringers to ring them. In order to ensure the tradition continues we need to keep the team up to strength, which means recruiting and training new ringers to join us.   
Of course we also welcome visiting ringers, and ringers who have recently moved into the neighbourhood.

Contact:  John Dietz - 01803 770515  (Tower Captain)
About Bellringing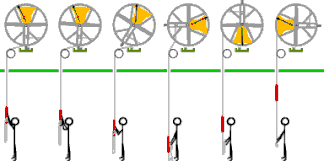 When are bells rung?
For church services
For weddings
For special occasions
For ringers' practice and pleasure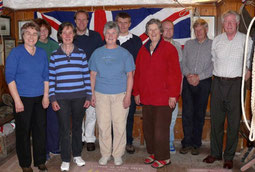 What's in it for me?
A hobby which involves:
being part of a team
good exercise - both physical and mental
maintaining a traditional skill
providing a service for the church and community
a good social life
continually learning something new
Bell ringing is good fun! Once you have learned the basic technique you will always be made welcome when you visit other towers.  Once gained, bell ringing is a skill for life you'll never forget and can open up a lifetime of experiences and enjoyment.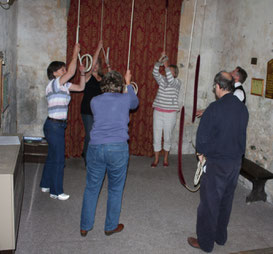 Who can learn to ring?
Ringing does not require any formal musical training, but a good sense of rhythm and a "musical ear" are helpful.  The only mathematical ability you need is to be able to count.
Ringing is more about technique than great physical strength but good co-ordination is important.  Also, many ringing chambers, including ours, are accessed by staircases or steps and therefore it is necessary to be reasonably mobile.  You do not have to be a church-goer to learn to ring.  In our bell towers you can learn to ring from about the age of 13.  We must have written parental permission to train anyone under the age of eighteen.
The initial learning may take several weeks, but of course some learners progress more quickly than others.  After this you can begin to ring with the rest of the band, although there is still a great deal more to learn. Most ringers practise once or twice a week and ring before or after church on Sunday.
Ringing in Devon
Here in Stoke Fleming we follow the traditional Devon style of "call change" ringing.  The conductor calls different pairs of bells to exchange places in the sequence of striking.  The obective is to make perfectly struck rhythmic music.
Find out more