Time Capsules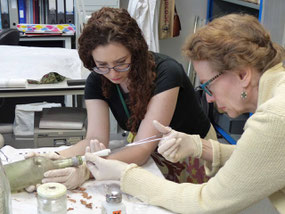 During preliminary work for the renovation of the church tower in Stoke Fleming two time capsules were found hidden in the structure, one in a disused cupboard and another hanging from nails in a joist under the floor of the ringing chamber.
The first, a dusty old green bottle, had been seen before back in the 1950s but there was no record of what was in there.  The second, clear glass with an almost square section and remains of a label indicating that it had once held lime juice, was a complete surprise but rumour was that it dated from 1915 when some previous structural repairs were carried out.
With the permission of the Diocese, John and Nick took the bottles to Exeter Museum where they were opened under the guidance of Alison Hopper Bishop, Museum Conservation Officer and Marina Gibbons, a post-graduate conservation student on the last day of a ten-month placement at the Museum.  It turns out that the second (white bottle) was from 1915 (just one hundred years ago and during the time of the Great War) and contained the names of carpenters and masons who were employed to remove the rotten old oak beams below the ringing chamber floor and replace them with steel girders.
The green bottle was older than we thought.  It contained a message from the Reverend Edmund St Aubyn who, while he was the Rector, carried out a lot of research into the history of the church.  His message for posterity, dated 1874, stated that 2 new floors were added in the tower at that time.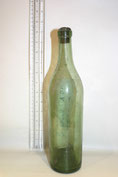 A third time capsule, dated 1915, was found under the ringing chamber floor during the building work on 17 Feb 16.  This has not been opened.
When the Tower renovation work is complete we intend to replace these bottles with an extra message enclosed saying that they were opened in 2015 and to add another bottle updating the story of the tower.  For more photographs of the bottles see Gallery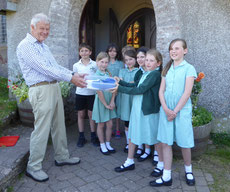 Stoke Fleming Primary School have also donated a Time Capsule, which contains items relating to life in the School in 2016.  This will be stored with the bottles on completion of the renovation project.